JNPT Container Tracking
|
The Jawharlal Nehru Port Trust ranks 24thon the list of the best terminals in the world. Operational since 1989 on the Mumbai coastline, it handles about 60% of India's container cargo shipment.
One of the main container yard which is huge is of 36 hectares with a 36000 TEU capacity. It is equipped with gantry cranes and quay cranes and tractor trailers, fork lifts and other material handling vehicles and equipment. It's also known as just JNPT, have a look its services details and how to check the status of JNPT container at one click below.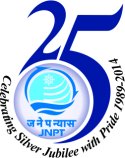 JNPT Infrastructure
It is well connected to the hinterland by roadways and railways. It has a large number of Connected Inland Depots (also known as ICDs) and 23 container freight stations. It runs a liquid cargo jetty with two berths in collaboration with Bharat Petroleum. To further facilitate cargo handling, they have obtained a 30 year license from NSICT to build and operate a two berth container terminal and have been running it efficiently since 2000. Another terminal of the JNPT is operated by GTI on a 30 year license on a BOT basis from 2006. This vast setup runs on completely state of the art modern technology and adoption of newer and better amenities are an ongoing process with JNPT.
Services
The JNPT serves a mind boggling 320 ports all over the world and its list of shipping agents registered are in excess of 200. Its services are not restricted to container handling alone. Pilotage services are provided to ocean bound vessels. Night navigation services are provided on a regular basis to the largest of container carriers. They also operate an efficient vessel traffic management system for the proper control and servicing of vessels to and from the Mumbai port. They also run a pollution control cell to regularly monitor emission levels of vessels using the terminal services.
How to track the Container?
In order to check the status of JNPT shipping, you just need to follow this URL that will take you to the official website. There you can find the "Container Tracking" section on the lower right hand corner of the home page.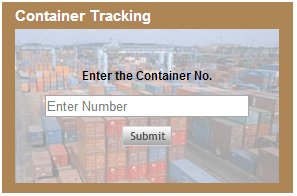 Here the customer can enter his container number and click the "Submit" button to track the current status of his consignment.
The website lists other online information dissemination services provides the customers with comprehensive information at the click of the mouse which helps them not just to track their shipment but also to find out important information, download necessary forms, find out procedures of doing or availing certain facilities and services etc.
The head office of Jawaharlal Nehru Port Trust is at Thane in Mumbai in Maharashtra, at JNPT Township and their PIN code is 400707. You can call them on (22) 27244171 and 27473565.