KICT Container Tracking
|
Karachi International Container Terminal (KCT) is one of the leading container terminals in Pakistan. Constructed and initiated into action in the year 1998, it is located inside the port of Karachi. With the facility of five berths with state-of-the-art facilities for handling equipments for containers, this terminal is an ISPS code acquiescent and it is also accredited with ISO 9001-2008 certifications.

KICT is a prestigious member of HUCHISON Port Holdings group and it functions as a subsidiary company of Huchison Whampoa Ltd. Incidentally, the later is the world's leading port investor, developer, and operator.
A gist about the terminal capacity
i)  It operates on 26.03 hectares of area and there are 3 berths for containers in it. With a total berth length of 963 meters, it has the depth of 13.5 meters.
ii)  It operates with the strength of 11quay cranes and 29 rubber tyred gantry cranes.
Efficient web inquiry facility
You can go to the official website (link is mentioned below) and click on the facility for e-services at the left. While making a selection of inquiries for the general questions, you can know precisely about vessel schedule, Container/B/L inquiry, calculation and verification of invoice amount, and last but not the least, you can make SMS inquiries.
Well – organized customer support
It has the best support from customer care. You can visit the official website of KICT using this link : and there ask questions, register as a service taker, and contact further as well.
Tracking in built with e-services
The provides online tool to track and trace the shipment status. You can check the current status of your Karachi International Container Terminal  shipping by going through this link. Once you go to mentioned URL you will landed to a tracking page that's look like this: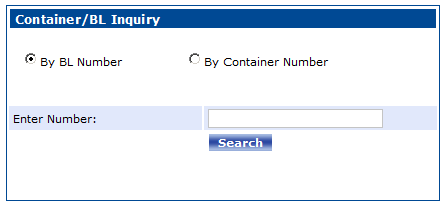 Now you need to enter the BL number and Container number in order to check the KICT port container tracking at one click.