How to Check European Air Transport Cargo Online Tracking
|
In the year 1971, the European Air transport (EAT) came into existence and started functioning in the buildings of Belgium. Being a company of DHL, it is solely responsible for the latter's branded parcel and express services in Europe. Its collaboration with DHL was inked in the year 1985 and although, it began just with 2 aircrafts, later its activities spread in the network DHL.  As Brussels was selected as its hub in Europe by DHL, EAT's alliance with DHL went on growing rapidly with boosts to business turnover.  EAT became a member of IATA in the year 1993 and at the same time, it got the license for the carrying of dangerous materials. As in the year 2002, Deutsche Post took over DHL and thus, EAT became its wholly-owned subsidiary.
Highlights of its services
i) Now being a company of Deutsche Post DHL, European Air transport is now associated with 250 year old organization.
ii) It now delivers services through their association as the postal service provider for Germany.
iii) It also acts as the logistics provider for the global market under DHL.
iv) Under the flagship of DHL, it also gives express services, freight solutions, and supply chain solutions.
Types of Air services with DHL
DHL almost operates with every route and it can facilitate transportation of your cargo in all types of air-route.  Its services are divided in the following categories;
i) For urgent transportation, you can book in DHL air priority.
ii) You can also check DHL Airs connect that offer fast services across the globe.
iii) For economical air freight, you can book your freight you can book through DHL air freight.
iv)  For Cargo, you can book through Cargo aircraft charter.
v) DHL also gives multi-modal solutions that you can engage multi-modal transport solutions.
How can you track the services of European air transport cargo?
As you know, European Air transport cargo is a part and parcel of DHL and Deutsche Post, you need to log on to DHL's website in order to track the position of your cargo. Follow this URL here that will take you to the official page, look at Right Hand Side and click on 'solutions by industry sector' that looks like this –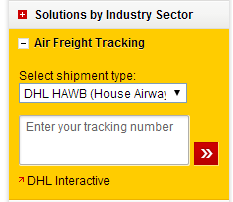 Mention below, the type of service that you have hired from the company by mentioning the type of bill and enter the tracking number s below. Then click on the » and you will get the status of your cargo.