CIM Shipping Container Online Tracking
|
Since 1995, CIM Shipping Corporation has served as a leading freight forwarding company and agent for liner service in Pakistan. With vast experience in shipping and transportation for last few decades, it started off with shipping brokerage and as it got incorporated, it entered into freight forwarding business.  After a brief passage of time, it attained a remarkable height in this business.  It obtained linear agency of various shipping companies of the world, it began its services for different nations including Afghanistan.  Its services for door-to-door deliveries in Afghanistan have highest preference from different parties.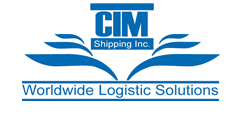 Other profiles of its service
Let's have the brief idea about its other services.
Container trading

– Working with the help of a dedicated team of crack professionals, it gives excellent service. With well-maintained containers, it makes sure that those meet the varying necessities of clients from different parts of world.

Depot for containers

– It has well stocked yard for containers  of different sizes and specifications. The differently shaped containers could carry ordinary as well as special cargoes.

Service for break bulk cargoes

– CIM break bulk is a famous full service logistics provider  giving freight carriage services for dry bulk, project cargo, and RO-RO products. As it has almost  4 decades of experience as its background in multiple types of services, it has all types of services for break bulk cargoes.

Logistics service

–  To add to the above range of services,  CIM also gives excellent customized solutions in logistics.  Comparable only with the elite service providers, it has emerged as a pioneering service provider in the last decades. Container trading, cargo management, and cargo control and maintenance are some of the chief areas in its services.

Partnership with technology

–  Be it anything, technology has stayed rightly its partner from inception.  It has adopted only the best from information technology to make it its partner in growth.
CIM Shipping  Customer Care – For any specific solution, the interested parties could write to info@cimshipping.com and get a fast response from the customer-care.
Call by phone –  The clients could call on below given number for making query about taking any service they need from the company.
Customer Care Number – +92-21-32417120
CIM Shipping Container Tracking Online
If you send any shipment using CIM Shipping container then best way to find the status of your shipment is to give a call to the customer support and they will use their in-house tracking system to let you know the current status. Additionally you can also log on to the official website  and online tracking is available at the bottom of the page.  They could track with B/L number or container number.
They could call 92-21-32417120 and talk with the customer service representatives to get solution for their needs for cargo shipment. They could also make queries about their already pending shipments in transit.