Caravel Logistics and Container Tracking
|
Caravel Shipping is the brainchild of two veterans from the shipping industry- Saju Chacko and C. Jayakrishan. Feeling the needs for sincere, dependable, and punctual service in shipping and container service, they began their enterprise in the year 1994. They realized that clients mostly expected timely and reasonably-priced services and this is the reason, they took the initiative for starting this company in shipping and container services. Although they began on a small scale with freight forwarding, CHA, and stevedore services, later they grew multi-fold in India and abroad.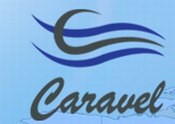 As of now, Caravel is the most trusted 'single-window' service-provider for all types of services in shipping and container services, such as container carrier service, trucking solutions, freight forwarding service, ownership of vessels and services for it with domestic logistics and 3PL.
Caravel's Vision
Caravel intends to be the number one service provider in giving top-end solutions in logistics to all its clients in India and abroad. It wants to achieve this with the help of techno-oriented services.
Mission
It has always intensely striven to be the 'one-stop' solution provider to its clients, so that they would not look for any other alternative beyond the scope of its services.
What does it offer in its range of services-?
Container services: It offers container service for cargo of every size. You could send perishable and reefer cargoes through its reefer containers. All its containers are in extremely good shape and those reach their destinations without any chance of damage.
Freight forwarding and international logistics: Not only Caravel has freight forwarding services for its clients in India but it has multiple facilities for its clients settled abroad. Its high-end logistics solutions are efficient enough to serve the clients in India and foreign countries. It has excellent international logistics solutions to serve its clients in the foreign destinations.
Services as custom house agent (CHA): It gives excellent services as an agent offering its services as custom house agent. You can rely on it for any kind of service in this context.
Road transportation: With an excellent fleet of vehicles to transport the goods and commodities of its clients on road, its road transportation facilities are excellent and it has the approval of one and all from the industry.
Latest from 3PL services: It has integrated all its services with 3PL services and service in this category consists of great modules to facilitate its clients in India and abroad.
Customer Care: You could call its office in the following numbers of customer-care;
91-44-42006800 and 91-44-28194616
Send an email: In order to enquire further about your queries, you could send a mail to info@caravellogistics.in and the customer care would get in touch with its replay within a short time.
Caravel Container Tracking
You could also track by sending a mail to info@caravellogistics.in and get the status of your booking within a short time.
You could use the numbers 91-44-42006800 and 91-44-28194616 to talk to its customer care for tracking related queries. The representatives could tell you about the status of your shipment.