APL Container Tracking online
|
The APL container is a not a new name in this industry, it is a Singapore company providing its services from last approx 45 + years. It is the 7th largest in the container shipping industry and is owned by the big giant company ie. Neptune Orient Lines. They were the first company to introduce containerized shipments in India in 1973.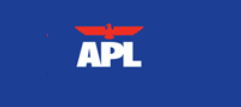 How to track APL Container ?
There are two ways to check the status of APL Container, first one if by going through official website and 2nd one is from below online form. Here, you can track your shipment using your bill of lading number or container number. For multiple shipments, click on the plus "+" button next to the text area provided. Then click on the button "Track".
In India they have their offices in 20 different cities. You can find out the nearest one by looking up the list provided on their website.
Network of Shipping routes
APL routes cover 149 countries and connect 33000 locations. It has routes connecting all the major trading lanes between Asia and Europe, Asia and North America, Europe and North America, Asia and Middle East, Asia and Australia, China and Australia. They also offer feeder services to major hubs in North Europe, South America, Australia and Asia. A detailed discussion of their routes would prove beyond the scope of this article.
Services and infrastructure
In the US, they also provide intermodal transportation services by rail or road. These services have been integrated with their ocean carriage functions in a seamless manner to provide their customers with door to door shipment services. They provide dedicated LinerTrain services in transporting goods to the docks for shipment.
They operate a similar dedicated service in India for rail transportation called IndiaLinx.
APL operates a string of dedicated terminals for handling of its goods in Anchorage, Los Angeles, Seattle in the US. Outside the US, they have terminals in Kaohsiung in Taiwan, Kobe and Yokohama in Japan, Ho Chi Minh City in Vietnam, LaemChabang in Thailand, Qingdao in China, Rotterdam in The Netherlands. They also have their dedicated container yards in Davao in Philippines and Joliet in the USA.
They are also into handling and shipping of perishable goods like edibles and pharma products. They have a fleet of reefer container carriers for refrigerated cargo equipped with technological amenities like temperature and humidity control and live monitoring. They also offer services for specialized transportation like garments on hangar, oversized goods and hazardous cargo.
At the heart of their operations are their highly skilled and experienced staff who handle the different operational functions. This is complimented by use of state of the art technology that is used to monitor and deliver the shipments securely and on time.