Shipco Transport Online Tracking
|
Shipco transport Company, as a subsidiary of Denamark based Scan group, started its venture in the year 1969. But with rapid expansion in the successive years, it began operating on larger scale from the year 1988 and now it is functioning with 70 offices in more than 30 nations. With employee strength of more than 1900, it offers intermodal services in Air Freight, LCL, and FCL freight services in Oceans. Literally, it has become a "single-stop" giver of solutions for worldwide transportations. Strengthening its global place, it has become member of worldwide alliance, which is an organization of world's famous non vessel operating common carriers (NVOCCs) and group of Air cargo service providers.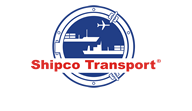 Shipco Transport Services Highlights
Air freight carriers – It has the best range of air freight services. Offering coverage of almost all the destinations across the world, it gives the premium solutions in sea air services. With a global neutral air freight services network, it offers its services almost in every corner of the world.
Best services for Ocean freight – Armed with ocean freight services for global LCL and FCL schedules, it serves almost all the destination ports in the world. It has full-fledged solutions for every type of Ocean transportation.
Service for e-commerce-at the tip of finger – It has come up with every internet enabled solutions, such as online booking of transportation of cargoes, management of cargo, reporting tools with other tools for integration.
Instant online services – It has introduced a host of web applications and it makes available to its customers all the relevant data like INCO terms, location code list, facility of calculation of freight with size and specifications of containers.
The visitors could log on to the official website and make inquiry about any services, which they would find useful for their needs.
Shipco Transport Customer Care
Shipco offers all its information online. The clients could log on to the web page under 'contact us' located on footer and on the web page find all relevant information instantly like sailing schedules, tracking of consignments, and most common of all finding the rate of a particular service. Moreover, its web-page 'apps' gives all the important links for important information. The clients could know instantly CFS, container specifications, tracking of containers, list of restricted nations, conversion of currencies, codes for international dialing, calculation of emission, information about government agencies and resources, hazardous cargoes, terms and conditions of INCO, international holidays, calculation of ocean freight, location codes for United Nations, report of weather, and global time zones.
Shipco Transport Tracking
Track from your registered account 

– Shipco gives facility of getting the profile of customer registered. A client could log on to his account to get the latest updates about the status of container booking.

Tracking onlin e-

The client could  track the Shipco transport with the help of consignment number below –