Sarjak Lines Container Tracking & Contact Number
|
Sarjak Container line was formed in the year 2003 in Mumbai. With unique capacity in forwarding of freight, the Company was looking for some great opportunity that would give them their real place in the industry. In the subsequent years, the government of India opened the doors of growth and Sarjak found the opportunity of shipping ODC/ORG cargoes. It offered the solution of transporting those in flat racks and open top containers instead of carrying such cargoes through common break bulk carriers. This proved its efficacy to the parties as their cargoes could get shipped by such container vessels with shorter transit times.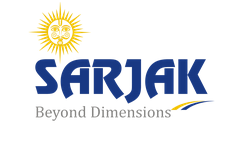 Sarjak Container Shipping Company
Special equipment fleet –   It could offer the great support of its extensive and various special equipment fleets with the penetrative national and international coverage.  This has helped Sarjak to take a unique position where the services offered by it are simply outstanding.
Veteran transporter –  With its renown as a seasoned and intelligent ODC/ODG player, Sarjak is now really acquainted with the functioning of markets and mindsets of its clients. For this Company has developed services and solutions that could benefit the clients in a positive way.
Worldwide support –  Sarjak offers complete range of exclusive services in ports and business hubs in India and across globe.  Such services include booking of cargo, inspection of cargo, selection and recommendation of special equipments, lashing of cargo, loading of cargo in the vehicle and ship and many more services.
Quality services –  With unique innovation and experimentation, Sarjak  offers service experience from beginning to end in the transportation of ODC/ODG cargoes. It serves even beyond the usual standards of service. All through the past years, it has solely fixed the target of serving the clients with fullest dedication. All this has resulted in professional excellence.
Complete e-support–  To add to the above services, it also has the support of dedicated website that could help in tracking, detention of freight, and downloading of forms along with availability of specification of various containers.  This service helps the clients to a great extent.
Sarjak Customer Support – For the availability of any information you could simply send a mail to or send a fax to 022-40550551. You could also call its customer-care and talk to  and get the details that you might need for your work.
Email ID: info@SARJAK.com
Customer Care Number – +91-22-40550550
Sarjak Container Tracking
 You could go to the official website and click on e-support. Click on the first option 'tracking' in the dropdown list. You could track with the help of your complete booking number and container number. This would give the latest status of your consignments pending in transit. Or you can use below tool to check the tracking status of Sarjack shipping container at one click.