With the vision and aim to supplement the Port Qasim Port in Pakistan, Karachi Port Trust stepped out to setup the second terminal of Pakistan which would evolve as a fully modernized and well equipped container terminal of international benchmark, to be strategically located at East Wharf in Karachi Port.
Premier Mercantile Services Pvt. Ltd., in short PMS, a Marine company won the stiff bidding process and thus was awarded the lease to construct a container terminal in Karachi port between the berths 6 to 9 in April 2002, and operate thereafter. An agreement was signed between the two parties, Karachi Port Trust and PMS.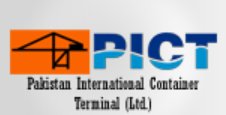 The agreement clearly drew the financial, technical and commercial layouts within which PMS would have to function, manifesting that PMS would float a terminal operating Organization aimed in funding, designing, building and operating a fully modernized international standard container terminal capable of managing 450,000 TEUs cargo movement every year for a term of 21 years. The organization would be focused to facilitate future growth and expansion of container traffic movement, optimizing with the growing demand.
Eventually, Pakistan International Container Terminal or PCT was rolled out as a Terminal Operating Organization and took over the terminal at East wharf in Karachi Port on 15th October, 2002; well in ahead of the scheduled date of 31st March, 2004.
Capacity
The terminal has a total area of 210,000 sq.meters with an additional 50,000 sq.meter area in KPT area. The total capacity for container storage is 19,500 TEU/day.
Environmental Responsibilities
PICT, the first in its clan which is Integrated Management Certified by Bureau Veritas, is focused in complying with Environment, Health and Safety parameters laid down by the International Finance Corporation, and also that of the Pakistan Environmental Protection Agency.
PICT Container Tracking
To track container online, customers need to follow this link  where  you can find below similar box:

In the box specified, customer needs to type either the container number or Bill of lading or CRN or Shipping bill detail, by selecting the desired radio button and clicking "search" and will get to see the result.
Customer Support
Additionally free SMS aided Container Tracking facility is available where the customer can send their inquiry through SMS on 0302 8287070; can email at info@pict.com.pk. Alternatively can call on (92-21) 32855701- 9.
Customers can walk in to the registered and terminal office at Berth 6-9 at East wharf in Kemari of Karachi Port.