Kattupalli Port Container Tracking Online
|
The Kattupalli Port company provided its container tracking system to track and trace the vessel position and status with the help of reference code. This Kattupalli international Container terminal (KICT) is situated in northern Encore port in the proximity of Kattupalli village of Thiruvallur district of Tamil Nadu. As it comes close to Chennai, L&T Ship building Limited has taken the complete responsibility of developing infrastructure of an integrated shipyard cum port and for this it has made the first investment of billions of rupees and created an extended capacity of 1.2 million TEUs in Kattupalli. As a joint Venture between Larsen & Turbo and TIDCO, this port has come up with the facility of building commercial ships and sub-marines. This port has also introduced the facilities like re-fitting and re-engineering of commercial and defense ships and off-shore platforms.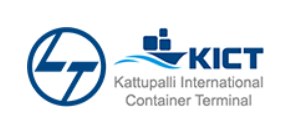 Tracking of Kattupalli Port Container
You could access the current tracking page of Kattupalli port which is given below and enter the details to know the position and status of container in transit. This is easy and convenient. As you fill in the details and submit, you get the first hand information of the shipments and containers in them.
Customer Care Number
In case for some reason, if the tracking tool is not working then customer can contact to the customer support team of Kattupalli Port which is given below:
Helpline Number: 89397-09979 / 782394-1714 / 78239-79139
Email ID: Madhu.a@adani.com , KICT-OPDOCUMENTATION@lntkict.com
Services 
Reefer Container – When it comes to transportation of perishable commodities , the company offers the service of reefer containers with refrigerated cabins. The customers could send all types of perishable commodities like medicines, vegetables, and other delicate items. BTW don't confuse with KICT, we are talking here about the Indian shipping company.
Containers for oversized goods – When you need to transport any oversized goods like machinery or vehicle, you could take the service of its containers for oversized goods.
Project cargo – When it comes to transport any specific machinery or spare part to the project site, the port could specifically assign containers for carrying the necessary materials.
Excellent terminal operating system –  Kattupalli offers excellent terminal operating system that could send all the goods and materials in the containers to the ships.
Latest technology in equipment handling –  The port makes use of only the state-of-the-art  technology that makes the functioning of the port perfect. The technology makes the time-critical deliveries reach the destinations in time and safely.
Equipped with IT technology – The port only runs through the latest in information technology.  This makes the availability of information speedier and reliable.
Best infrastructure –   The port has always maintained and upgraded its infrastructure to keep it environment friendly and developed in every aspect.