Lietuvos Pastas Tracking for Courier
|
AB Lietuvos Pasta is the only public limited company and biggest provider of postal services in Lithuania. With colorful traditions and rich heritage, this company renders services to almost 8, 00,000 clients every month. The innovative management solutions, this organization not only gives simple postal services but also courier and financial intermediation services. For this reason, it is now in a position to be the most trustworthy service giver of the nation. In the last few years, it has come up with most innovative and helpful services for the benefits of its clients.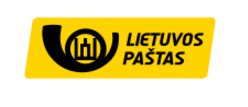 Track Lietuvos Pastas
Just log on to its HOME page and tracking facility is available on the right side of the page. You could track with your tracking number and get the right status of your consignments pending in transit and become sure about its availability.
Let's have a glance at its best services that the clients have appreciated so far;
Financial services – This organization could help to send money to various destinations and even abroad. You could transfer the payment at the post office to different destinations.
Shipping and other services – At the Lithuanian post office, you could send a letter or postcard to your friends or relatives living inside the country or abroad.
Philately – Those, who are interested in collection of stamps of different nations, could approach this office for this purpose and buy stamps for storing.
FAX service – Anyone looking for faster communication with other parties inside this country or foreign locations, could send message through its fax to all the locations.
Advertising services – This organization offers various mediums to give scope to its clients for advertising their products. Such publicity helps them to increase their business.
Mail support – It could give the support to the companies for receiving mails though its postboxes.
Valuable e-services – With six types of e-services, the customers could do multiple operations and get benefitted. You could log on to its Page for e-services and do amazing sorts of tasks to help your needs.
Other types of services – As an organization, it has also enabled multiple services for helping the customers.