D2D Express Cargo Online Tracking
|
Nitco group owns D2D express cargo service and this is a specialized service division giving service for deliveries of cargoes at every destination in time and safely.  Through its very efficient and economical services, it makes sure that the parties do not get pressurized for failure in deliveries in appropriate time, shortfalls in production, and broken equipments in their regular schedules of production. As the Indian economy is opening up and abounding opportunities are available for private entrepreneurs, D2D express cargo service has come up multi-modal operations at specific destinations inside India. Especially, metros like Mumbai, Kolkata, Bangalore, and Chennai could have faster service from D2D express cargo service.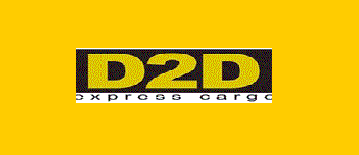 Highlights of its services
Complete and quickest solutions for cargoes
It is unbelievable but true that out of 585 districts in India, D2D express has established its network in 575 districts. To add to it, it also has set up its network of service in SAARC nations.  As it has grown matching its efficiency exactly with the needs of its customers, it has acquired unmatched strength in providing simple, trouble-free cargo services to a range of industries. It has 1350 surface transportation vehicles for cargo movement. On an average, its vehicles cover around 1, 52,877 kilometers.
Delivery in perfect time
As a pioneer in scientific cargo business movement, D2D has forged an alliance with Indian airlines and this gives an unmatched advantage to parties in deliveries of cargoes across the country. With flexible options in pick-up services and deliveries, it makes every impossible task possible.
Expertise in door-to-door service
With its scientific cargo management system, it has achieved near perfection in making timely deliveries at the doorsteps of its clients. The team of experts makes sure that no delivery misses the time schedule because of negligence from its side.
D2D Express Cargo Customer Care Number
You could log on to Services page and get every online support by clicking on the support at top of the page.
If you mail your concern to partyquery@d2dexpress.com , the customer-care could give you round-the-clock service for your queries.
You could call to the D2D Express Cargo customer care number that is mentioned below:
01912-554430
91-9906903373
Email ID
How do you track?
If you send any goods using  D2D Express Cargo then tracking of the shipment is easy as we have provided the tool to track & trace the shipment status. You could track with the help of e-bill number. This would give you the status of your cargo pending in transit. It is easy and convenient.